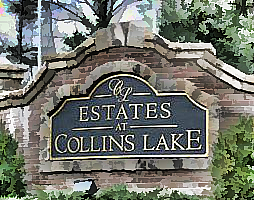 The Estates at Collins Lake is an exclusive retreat of only 55 luxurious single-family homes nestled around a serene lake in the Vinings area. Every home in this exclusive community includes a basement and has the capability to expand up to 7 bedrooms and over 5600 square feet.
The Estates at Collins Lake has ready access to many of the finest urban amenities, but is buffered from the hustle and bustle in a peaceful setting. The Estates at Collins Lake is only a few miles from the prestigious Vinings area which offers exceptional retail and dining centers.
The Silver Comet Trail is a former railroad bed, revitalized as the ultimate recreational nature trail and has ready access from the community. You can spend your afternoons hiking, biking and rollerblading over scenic covered bridges and idyllic settings for over 57 miles (when complete) in 3 counties.