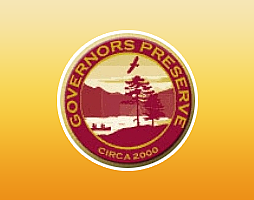 Inspired by history, interpreted by nature. Governors Preserve sits on 3.5 miles of Etowah River Frontage. A true nature preserve with rolling hills, panoramic views and abundant wildlife. Hike it! Canoe it! Enjoy it! It's more than home...it's a lifestyle.
The Governors Preserve is a true greenbelt community where all homeowners have access to hundreds of acres of greenways and common areas for enjoyment and exploration. Birdhouses of many shapes and sizes are strategically placed throughout the preserve. Deer and wild turkey are not an uncommon sight here. In the evening you may hear the frogs' serenade from the river behind the clubhouse. You may even find wildflowers like the 'pink lady slipper' growing your backyard.
The Governors Preserve offers luxury living for the outdoor enthusiast. We are committed to preserving wildlife habitat and providing a safe environment for your family in nature.