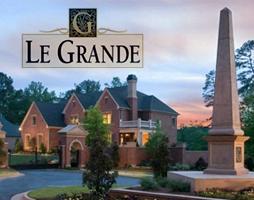 Regal yet welcoming, LeGrande's landmark gated entrance sets the tone for what is sure to become one of South Fulton's most coveted addresses. Located on Enon Road between the Cascade area and Camp Creek corridor, LeGrande neighborhood is filled with all the amenities you'll need, offers undeniable convenience.
Behind a richly varied landscape of mature woods, rolling hills and green spaces, you'll find elegant Colonnade Homes and estate-sized homesites. You'll find inspiration in Colonnade's portfolio of plans, designed with the finest stone and brick European manors in mind. With Colonnade's dedicated team of designers, you'll explore the possibilities of added touches and unique details that will make your home truly your own.
Located just outside I-285 in growing South Fulton, LeGrande affords easy access to all Atlanta has to offer. Every convenience is nearby, including the airport, downtown, entertainment and great shopping and dining at Camp Creek Marketplace.
Set behind a landmark gated entrance, discover South Fulton's next destination for private estate living. Luxury and convenience combine at LeGrande, ideally located on Enon Road between Cascade and the growing Camp Creek corridor, minutes from I-285 and all of Atlanta.
Elegant estate homes at Le Grande offer innovative plans designed for the way you want to live with detailed architecture, lots of flexible space, today's best features and our highest standards for quality and efficiency.