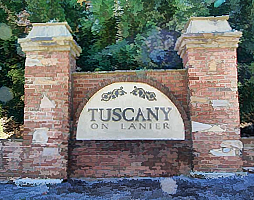 Finally, The Majesty of Tuscany has been brought here to the North Georgia Mountains in the form of Villa Di' Benedizione. This Tuscan Villa has all the luxury of an Italian Family Estate while capturing the heart of what cozy, Italian family-style living is all about.
The builder wanted to stay true to Italian Architecture which features Hand-Hewn Cedar Beams on the ceiling with Terracotta Clay Tile interlinked through out, Travertine Flooring, hand painted Italian Frescos, hand stained Wood Trim, Old World Italianesque Chandeliers, Mosaic Inlays and much more.
Not only are the building materials true to Italian Construction, the Villa is also environmentally friendly.